Time: 6.40 am.
The tires make a tiny screech when hitting the asphalt. The helmet is on and the bag secured. Luckily around 45% of the way is downhill — joyful news for a cycle commuter in Switzerland.
The suburban streets dissolve quickly into a narrow country road. Soon most housing is replaced by scattered farms, with cows ruminating on the curved green plains and a heard of sheep snoozing near the neighbouring fence. Pushing back the pedals reveals the mountains on the right.
No cars in sight — optimal moment for a photo.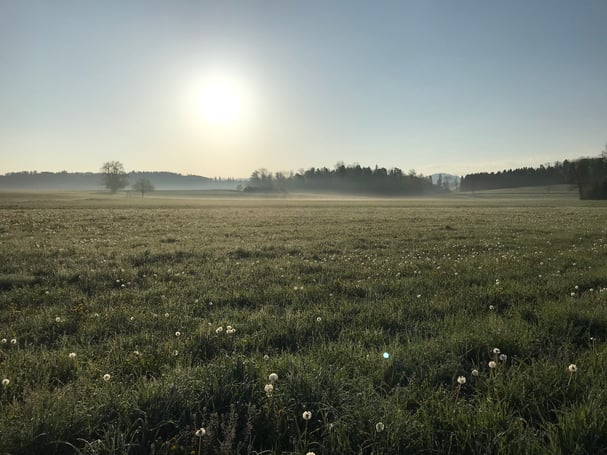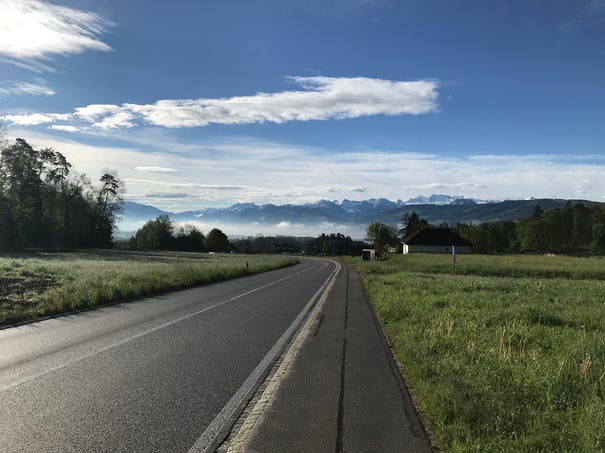 Near Hombrechtikon and Lake Zürich

Three kilometres remaining to overcome the next hill and then straight ahead along the waterline. You often miss the lake breeze in a car, but it's warmly welcomed while cranking up winning miles for bike to work.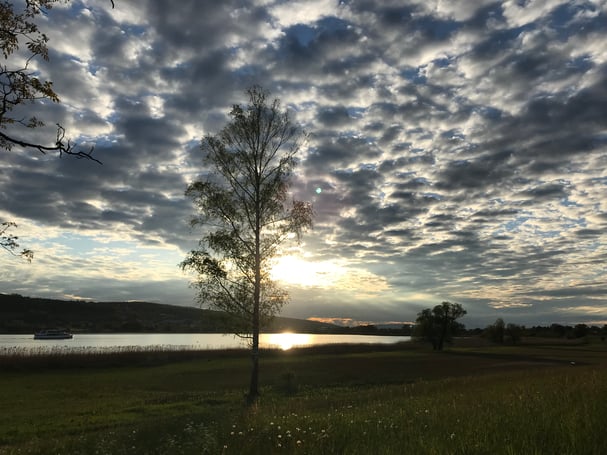 What is bike to work?
Bike to work is an annual Swiss wide event, in which 65,000 commuters from 2,200 companies cycle to work and back between May-June. The campaign promotes team building, health and well-being, and a shift towards sustainable mobility. Since its kickstart in 2005, bike to work participants have cycled over 15 million kilometres.
How did we do?
We organized ourselves into five teams, and together 20 HSE•AG employees cycled over 8000 km, roughly the distance from Zurich to Beijing. The winning team The Radlers cycled a staggering 1961 km in total. Herzliche Glückwünsche!
However, the greatest victory goes to the planet: we saved 1170 kg of CO2 emissions in just two months by opting for our bicycles.
These metrics may appear small on a global scale, but the numbers add up. In 2019, bike to work saved an equivalent of 2,521 tons of CO2, corresponding to 201,000 trees.
Looking forward to next year

We believe healthy work habits and eco-friendly choices are important factors for promoting well-being amongst employees.
These values help (most of us) pedal even when the weather isn't so photogenic.
To all commuters, keep cycling!
Photo credit: Michael Kühni
Posted by Patrick Widler