This year's conference is being held at the Bonnet Creek Hilton Resort in Orlando, Florida, which is in the entertainment district and just 5 km away from Disney's Typhoon Lagoon Water Park and Hollywood Studios.
The opening session was held by Richard Wilson, AGBT Co-Founder and Board Member, followed by three great speakers from the University of Lausanne, Switzerland, Stanford University, USA, and Garvan Institute of Medical Research, Australia.
It was immediately clear that the Advances in Genome Biology and Technology (AGBT) is considered to be the preeminent genome science and technology conference where top researchers, leaders, and innovators from around the world meet to announce new discoveries, cutting edge breakthroughs, and to collaborate.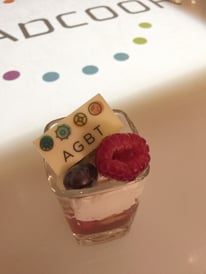 The informative day ended with a Welcome Reception which was fantastically well-organized to cater for 900 attendees.
Day 1 started with breakfast events hosted by Roche and NUgen, which turned out to be a great place for networking. It is amazing and impressive to see that all the big companies are present at the conference, with some of them sponsoring the event as a gold, silver, bronze, or other sponsor.
There is a great mix of plenary sessions with outstanding speakers from all over the world, poster sessions, and sponsor workshops. The meeting format includes daytime plenary sessions featuring invited speakers and abstract-selected talks that highlight cutting-edge research across the broad landscape of genomics. The evening concurrent session at the AGBT includes experimental and computational approaches for effectively utilizing the latest DNA sequencing technologies.
While the outside temperature was around 28°C, the conference rooms were a little cool, which I hadn't been expecting and this necessitated a rethink of my wardrobe! I will be better prepared for tomorrow's session.
My take home topics after day 1 are: Outstanding speakers, great research, and an extraordinary networking experience.
Posted by Patrick Widler